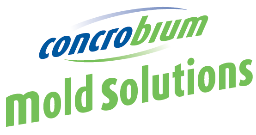 Concrobium Mold & Moisture Control Solutions
Concrobium Mold Control is an innovative product that effectively eliminates existing mold, prevents mold re-growth and eliminates musty odors with no harmful chemicals.  The unique technology is ideal for: homes, buildings, boats, cars and RVs.
Concrobium is U.S. EPA tested and approved as well as Health Canada approved. It effectively and safely kills mold on any fabric, leather or surface inside your home, boat or automobile. Simply spray or fog onto drywall, wood, composite wood, plastic, concrete, siding, shakes, metal, brick, stone, tile, grout, stucco, fabric, furniture, upholstery, flooring, leather and many more surfaces.
Concrobium Mold Control effectively eliminates and prevents mold with no bleach, ammonia or VOCs. Concrobium works as it dries by crushing the mold spores at the roots and leaving behind an invisible antimicrobial barrier to prevent future mold growth.