A regular program of proper and diligent washing, cleaning and deep-clean detailing of a boat and trailer in Panama will pay enormous dividends. This is the best money you will spend on your boat and guaranteed to extend the life of your investment in your boat and trailer by orders of magnitude.
Missing a thorough  fresh water wash after dipping your aluminum / steel trailer in salt water is just plain negligent and should be done after every launch and loading.
Using the right products at the right time on aluminum, chrome, steel, fiberglass, canvas and vinyl will keep all these materials and surfaces in top shape and significantly extend the life of all in the humidity, heat and salt water that your boat is exposed to in Panama.  
1. Boat Trailer Care and Maintenance
Boat trailers are constructed of aluminum and/or steel, two materials that quickly corrode in a salt water and humid environment. Your trailer will have a short lifetime if not properly cared for, so every dollar spent on preventative maintenance pays off ten-fold or more.  It is critical that your trailer be thoroughly rinsed and washed with lots of fresh water every time that it is doused in seawater. And even if not used for a launch, a good monthly wash is advised.
So a thorough rinse after EVERY launching of the boat, and then also a quick wash with soapy water and a brush followed by a thorough rinse after retrieving the boat before it goes back to the shed for storage is minimum required maintenance.
Use of a high pH soap such as Simple Green is a terrible practice and tests have shown that high pH soaps can accelerate aluminum corrosion up to 10,000 times. Stick with a pH neutral product such as Turtle Wax High-Shone or the pH neutral (3 oz per gallon) use of Turtle Max-Power Car Wash. Any cleaning product that is even slightly alkaline will harm aluminum.
Treating Existing Boat Trailer Corrosion
If your aluminum boat trailer frame has "spotting" or "pimpling" visible, this is a clear sign of corrosion. To treat existing corrosion we suggest to spray CorrosionX (red can) thoroughly onto all surfaces of a section of the trailer at a time. Put out some newspaper or cloth under the trailer to pick up the drips. Let it sit overnight, and then the next day go back with with some more CorrosionX and a green Scotchbrite pad to see if I could scrub all the visible corrosion off. Finish off with a good wipe with a clean rag saturated with CorrosionX, then move onto the next section. So a large trailer may take four or five days to treat. If your crew keep a shop rag saturated with CorrosionX on hand they can occasionally wipe the trailer down while it's in storage, as there is always plenty of salt in the air.
Wherever plates are bolted to the frame, winches, any sliding pieces or weld joints, give a good flood of CorrosionX Red and allow to penetrate for a day. CorrosionX will actually creep into bolts and joints. Give it a day, go back and give a light wipe with a rag then a good spray of CorrosionX HD on all these areas and exposed bolts. Pay special attention to the winch gear too, as not only will it start to look bad, but it will deteriorate pretty quickly without occasional treatment.
Trailer axles and wheels especially require diligence and some care, or else you'll be replacing them often. If there's a lot of corrosion present, as typically we see, spend some time to remove the corrosion first using the process above. Be sure that drain holes in the lower axle bow are open for drainage. We suggest removing brake components as they will quickly corrode. Remove all the excess and residual corrosion, then a good coat of Corrosion Technologies MaxWax. If a new trailer, or no corrosion, then go straight to the MaxWax. And be diligent of a thorough wash in this area every time the trailer hits the salt water.
And remember, whether the boat is used or not, a good wash and a wipe with some rags saturated with CorrosionX every three months will keep corrosion away.
2. Boat Care Best Practices
Regular and Diligent Washing
Every time that your boat hits the water, and every three months if not, requires a good and thorough bow-to-stern (and everywhere between inside and out) wash with lots of clean water. Follow this with a thorough wash with a pH neutral detergent (such as Turtle Wax Max-Power or High Shine) in a large pail, using a large and small soft brush. Change the wash water a couple of times. Follow by a good and thorough final freshwater wash and a wipe down with a clean and soft cloth or chammy.
Fiberglass Care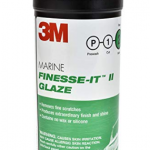 For areas of the fiberglass that have that "dull gelcoat look", light oxidation, minor scratches or staining from exhaust of dirt we highly recommend using 3M™ Marine Finesse-it™ II Glaze. This is a wax-free, silicone free product that is specially formulated for boats and will rejuvenates faded and neglected paint and gelcoat surfaces. Also works well to remove minor oxidation on stainless steel and chrome areas. Be sure to thoroughly clean all dirt, grime and salt from the area first. Put a small amount of the product onto a a clean and dry microfiber cloth. Wipe the area clean, no need to be aggressive. Re-apply and rework as necessary to remove all surface oxidation and grime on
the gelcoat or stainless / chrome.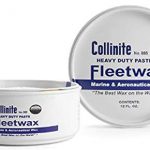 For final protection, we recommend No. 885 Collinite FleetWax Marine and Aeronautical Wax. This is a last step paste wax that provides high gloss shine and toughest
barrier against the elements. Apply in about a 2 foot by 2 foot area at a time. Be sure that the surface is clean of all dirt, grime and salt. Apply THIN coat of wax with an applicator
pad to the section you are working on (no larger than 2X2 ft at a time). When wax begins to dry (light, hazy residue will appear on surface), remove the haze with a dry microfiber towel or cotton cloth. No aggressive polishing is required.
Outboard Motors
For outboard motor(s) hydraulic steering assembly we recommend all exposed joints and linkages should be cleaned well and apply a waterproof grease periodically. Be sure to apply a premium grease twice a year to any grease points on the motor. You'll likely see seawater being forced out as you apply the grease with a grease gun.
Fittings
For locker and door latches, catches, hinges, door bolts we suggest cleaning grime away with a small cloth and some 3M Finesse. Then apply a few of drops of CorrosionX in the area of any moving parts. The CorrosionX will creep into all spaces to prevent corrosion and also acts as a long-lasting lubricant. Wipe unexposed areas and surfaces with a cloth saturated in CorrosionX. Exposed and exterior surfaces will benefit from a small application of Collinite FleetWax to make further washes and wipes more effective.
Exposed cleats, rod holders, cup holders can be cleaned of grime with with a small cloth and some 3M Finesse.Then these surfaces will benefit from a small application of Collinite FleetWax to make further washes and wipes more effective. Any fittings that have adjustable of movable sections will benefit from a few drops of CorrosionX periodically applied.
Battery and Component Areas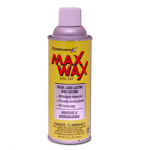 For battery compartment areas we recommend that a very light spray of CorrosionX on all exposed terminals and cables be applied. Be sure to get some CorrosionX into any crimped areas as CorrosionX will creep up into the crip and between the cable strands to prevent hidden corrosion that can result is critical cable failures.
For bilge pump area we suggest a light spray of MaxWax onto all exposed terminals. MaxWax will cover and protect from water splashing around the area.
Auxiliary generators we suggest a light spray of CorrosionX onto any exposed metal. electrical connectors and terminals.
3. Moisture Management and Mold Prevention
Mold is always a major and recurring concern in boats, on cushions, upholstery, covers, life jackets, storage cupboards and lockers. Mold thrives in high humidity, warm temperatures and areas with no air circulation.
If possible, reduce humidity levels in cabins and lockers with a dehumidifier, small fans or Concrobium Moisture Grabbers. Mold grows 10X faster for every 10% increase in relative humidity over 60%. Typical ambient humidity in Panama is 50-60% in dry season, 60-80% in wet season and will average above 70% in a marina. Our goal is to reduce to 60% or below in cabins and lockers.
Concrobium Mold Control is an excellent product for cleaning mold and helping to mitigate ongoing mold stains. Unlike many dangerous or hazardous cleaning products and practices, Concrobium product is non-toxic, contains no bleach or peroxide and is safe to use on any surface or fabris. For cleaning mold, a light spray of Concrobium Mold Control, wipe vigorously with a clean cloth, followed by another light spray of Concrobium. As the product dries it crushes and kills the roots of the mold organism, so make special efforts to assist the Concrobium in drying. A periodic light spray of Concrobium on all fabrics, wood surfaces and cubbyholes / lockers will help reduce mold growth. Be sure to leave doors and lockers open to encourage air circulation when your boat is not in use.
Summary
Corrosion, erosion and mold on a boat are an owner's nightmare. Not only for cosmetic reason, but also for reliability and safety. Having a critical component fail in your boat or engine systems when miles out to sea is an event no owners ever wants to experience.
Replacement of parts and components can easily add up to thousands of dollars a year, if not ten time that. But by diligent and methodical use of the right cleaning and protection products with the right application protocols on a both a as-used and scheduled bow to stern program is the best investment any boat owner can make.